3 scientists change a lightbulb, win a Nobel Prize, here's why…
Three Japanese scientists, Isamu Akasaki and Hiroshi Amano at Nagoya University, Japan, and Shuji Nakamura of UC Santa Barbara, have won the 2014 Nobel Prize in physics for literally changing the lightbulb!
To be specific they found a way to create the blue LED (light emitting diode) which has eluded scientists world wide for decades. In the 60s we had red and green LEDs and they were widely used in electronic gadgets (you may remember calculators and computers, phones etc using the red and green LED) but for decades afterwards no one had been able to produce a blue LED. This had to do with the difficulty growing crystals of Gallium Nitride which was necessary to produce blue light. These three scientists, working separately and together, finally found a way to grow and stabilize these gallium nitride crystals so the blue LED became a reality.
Why was BLUE so important? Well, when you combine red, green and blue you get white light! This white light is produced at much lower energy cost than existing light bulbs. For the same amount of energy LEDs produce 4 times as much light as a fluorescent bulb and 20 times as much as an incandescent bulb. They also last much much longer – 10 times longer than a fluorescent bulb and 100 times longer than an incandescent bulb.
Since lighting takes up 25% of the world's energy usage LEDs have the potential of reducing this to just 4% or less. Since LEDs have such low power draw for high output of light renewable sources of energy such as solar power can easily drive these bulbs. In fact, in Africa, millions of solar powered LED lamps are replacing kerosene burners. This technology could and is beginning to change the lives of over 1.5 billion people around the world who have no access to the electricity grid.
It has not only changed lighting of homes – we, as a production company, have changed our lighting systems from incandescent to fluorescent and now to LED lighting. LED lights have completely changed our workflow. We are no longer tethered to power outlets since LED lights can run very efficiently (and lightweight) off relatively small batteries. In a typical production we can light an entire scene with 1 larger LED panel (1×1 foot) running off a v-mount battery and 3-4 small hand held size LEDs. The batteries on these LEDs often last a couple of days of 10 hour shoots. Gone are the days of fuel based generators, huge extension cords and having to have an electrician on set to make sure we didn't overload the circuits of a house. LEDs also allow us to shoot run and gun style since they're incredibly light weight and barely produce heat. The lights remain cool so we don't need to keep turning them off for the comfort of actors and crew and we can immediately handle them to move or break the set down after wrapping the shoot.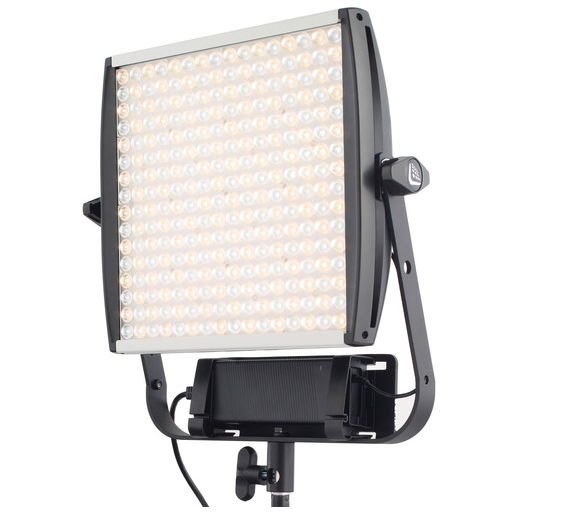 There are, however, a couple of drawbacks with LED technology. You must be careful to select LEDs that have a high CRI – which is how closely it resembles white light. Not all LED manufacturers create LEDs that are truly white – they often produce light that can miss or accentuate certain parts of the lighting spectrum.  Here's a video discussing some of the pros and cons of LEDs by the guys at Digital Corridor:
Secondly LEDs are hard to focus since they create a very soft dispersed kind of light. However, Dedo lights have solved that with their focusing Dedo LEDs. Litepanels also have Fresnel type LEDs which allow a certain amount of focusing to be done.
In conclusion, the physics Nobel Prize was well deserved by the three Japanese scientists who have revolutionised lighting, reduced our carbon footprint, allowed access to lighting to 1.5 billion people and as a side note – helped to democratize film making world wide.