How to Watch: What Do Men Want?
Find out how to watch this edgy new drama series from BananaMana Films.
What Do Men Want?
An award winning series (Outstanding Directing in a Drama Series LA WEB FEST 2014) created by two veteran actors: Jason Chan & Christian Lee. It is a 13 episodic drama revolving around two passionate actors searching for truth, love and happiness but most of the time, they find lies, rejection and disillusionment. Jimmy and Bob are two struggling actors trying to "make it" in the acting industry , they also desperately want to find love. They become players, date the wrong women for the wrong reasons, try to sleep their way to the top, lie and cheat to get what they want: fame, fortune and sex. Each episode focuses on their tortuous and entertaining path to find these truths.
How to watch in Singapore:
If you're in Singapore you can simply go to: www.toggle.sg and sign up for a FREE account.
You can binge watch the entire series for free on Toggle:
Outside Singapore?
No problems. Just use the Chrome browser.
Update your SilverLight – which is a plugin for your browser. Go here to UPDATE SILVERLIGHT.
Add this plugin to your chrome browser: HOLA. Then change your IP address to Singapore and go to Toggle.sg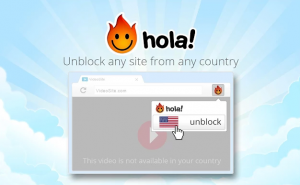 Hola can change your IP address to any country you like.
Once installed – there will be a little FIRE logo in the top right corner of your chrome browser. Click on that: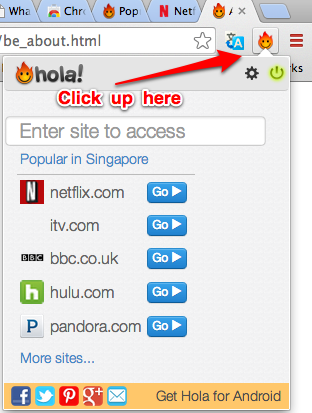 Now just click on any of the channels like netflix.com or hulu.com and hola will automatically change your IP address to US or somewhere else. Next, just click on the arrow to get access to any country in the world. Change it to Singapore and then go to: Toggle.sg: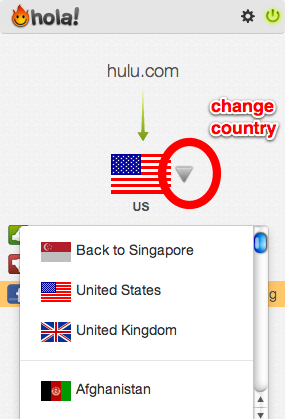 You can watch all the trailers and comment on any of the episodes HERE.