Disclaimer:
In full transparency we'd like to just say that we are working with Sony and their cameras to evaluate and try to achieve great quality footage for our upcoming drama series. However, all opinions and technical considerations in this blog are our own.
Sony a7s ISO Sensitivity Test
As we prepare to use the Sony a7s for production – in particular for a TV series we're producing – we needed to find out how far we could push the incredible ISO levels on this camera but still retain good quality footage with accurate colors and low noise. So we did a little test. It's not a scientific test by any means but we did try to control for a few things. In this test we wanted to know not only if the Sony is sensitive in low light (which we now well and truly know) but also what is  an optimal ISO to be working at to achieve editable and gradable footage. To test this we controlled most settings on the camera except of course ISO and the only change to exposure was made with the lights. This allowed us also to understand how much lighting we really needed for our set and to light our actors whilst keeping it noise free. Whilst a sensitive camera like the Sony a7s may not reduce the number of lights you have – it'll certainly reduce the amount of light each one is needed to emit. That translates to smaller, lighter equipment which is great for all productions particularly indie ones.
Our settings:
Picture Profile 6 (our favourite picture profile – flat and optimized for editing)
frame rate 25
shutter speed 1/50
aperture f4
Lens: Sony Vario Tessar 24-70mm Zoom f4
Camera and Lighting Setup:
We used two small Z96 LED lights in front of our talent, one Z96 lighting a spot on the wall behind and turned on a table lamp in the background as well. Of course we could only dim the Z96s so the table lamp eventually blew out on camera.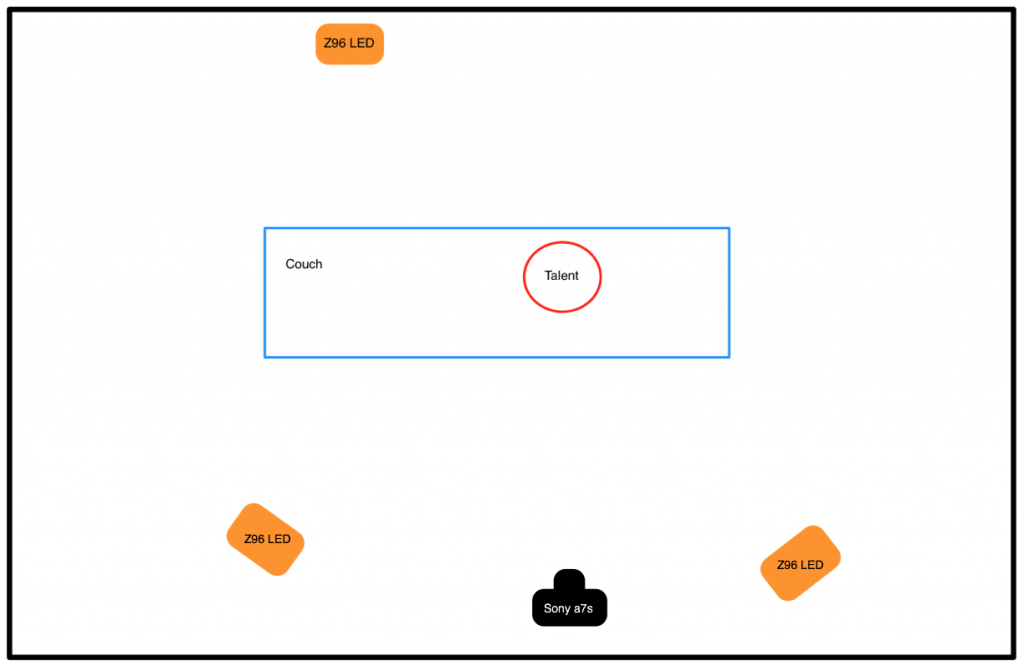 Our aim was to increase the ISO whilst keeping all other settings the same. We would just dim the Z96 LEDs with each increment of ISO to keep all the exposure levels the same.
Exposure Levels:
We spot metered through the camera to keep the grey card as well as the talent's skin at 0EV. The highlighted spot on the back wall (lit by the Z96) we kept at +1.3EV.
Our conclusion:
Once again – just as our previous test – we were blown away by the incredible low light performance of this camera. We found that we were comfortable pushing the ISO up to at least 8000 if not 10 000 with minimal noise and good color rendition. Some have said they'd be quite happy to use up to ISO 80 000 but I think for broadcast TV we would stay around ISO 10 000 and below – which is still an incredible range for us to be able to work at. As you could see from our inset frames of  "what we could actually see" with our eyes vs what the camera saw – we were able to work with very very limited (dim) lighting. This is a boon to indie or budget filmmaking where sometimes budget constraints mean that you have less hands on set and less lights you're able to work with. This doesn't mean we're not going to light or shape our lights but it does mean we can now work with much smaller lights with smaller output. This means lower power consumption which means less batteries, longer shoot times, less to carry – all great efficiencies for any filmmaker. In fact we're in the process of developing some very small, focusable lights powered by AA or AAA batteries. If anyone is interested in something like this do email us.
For documentary or lifestyle work this camera is a no-brainer buy! I've since had this camera on several overseas trips. I used to swear by fast primes simply because I needed to let in as much light as possible but with the Sony Vario-Tessar 24-70mm f4 zoom I could capture anything, anytime. An aperture of f4 is no longer a limitation. It has already changed my workflow and will revolutionise our production processes. Love it when technology does that!