So you've submitted to a film festival or you've been officially selected by a film festival and they require a blu-ray of your short or feature. – how do you make one if you're on a Mac. Quite easy.
The majority of Macs do not have DVD burners anymore so you'll need to purchase an external DVD writer. The Superdrive by Apple does not support Blu-ray – it can only burn conventional standard definition DVDs.
Apparently most USB DVD writers will be compatible with OS X but do check when you purchase. We bought the Samsung External Blu-ray SE 506CB – which I found to be extremely well reviewed online. It did not disappoint.
About the Samsung Blu-ray SE 506CB
It is USB 2.0 powered which is convenient – no need for an extra power cable and adapter. For Macs and PCs it's simply plug and play. The bundled software is for windows only but don't let that worry you – it's simple to use with a Mac. It's lightweight, comes in black or white, has a tray for the DVD with just one button for eject. When writing a disc it is incredibly quiet – so quiet in fact – I thought it wasn't working. It's also useful in that you can plug it into any USB port on a smart TV and use it as a Blu-ray or conventional DVD player.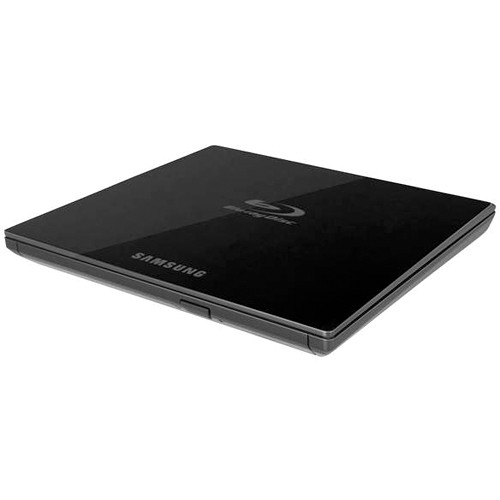 Burning a Blu-ray on a Mac
You can use various software including Adobe Encore or Toast (requires Blu-ray plugin) but the easiest way is to use FCPx. Just choose your project then output it as a Blu-ray.
Just go to SHARE and add destination (if Blu-ray isn't already an option):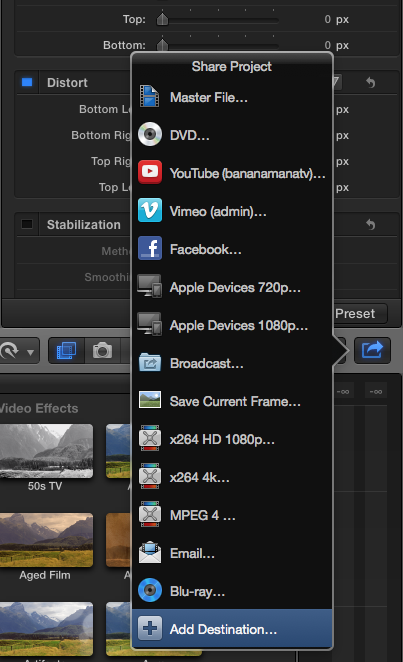 Add Blu-ray:
Then click on Blu-ray and choose your external drive from the drop down menu (Output Device):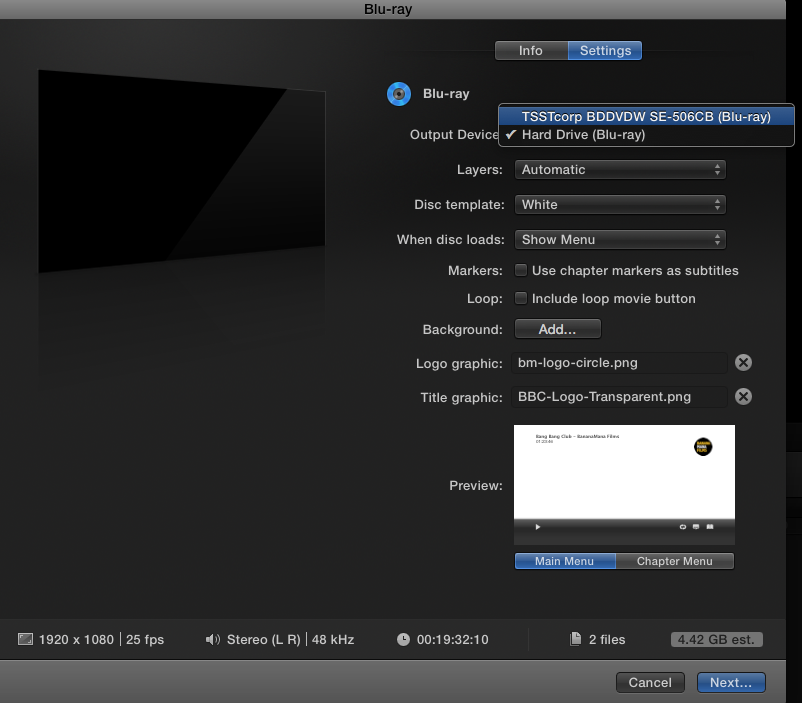 Add a disc template, background, logo graphic, title graphic etc. Don't forget to title your disc in the INFO section then click NEXT.
Your Blu-ray DVD should be ready soon.